Case-packing and Palletizing System Consulting
Our End-of-Line Engineers work for you to develop the single-best solution. Why?
You may have limited staff or resources - you have product to get out the door!
You wish to remain anonymous to the field of robotic end-of-line system vendors.
Accelerate / Expedite a robotic bag palletizer project timeline.
Develop a long-term, phased-in, modular approach to robotic bag palletizing.
Get an objective view - we represent no robot manufacturers and only work for only the client!
You already have the palletizer - you just need to increase rate, add products, modify end-of-arm-tooling, or enhance reliability.
Compare / contrast various types of robotic bag palletizers and systems.
Compare / contrast various robotic bag palletizer brands.
Customize the service to include as much or as little as you need.
You own the defined robotic bag palletizer solution(s) and layout(s) and can go out for bid easily.
Gain a report delineating the decision criteria for superiors or financiers.
Huge savings! Because of our robotic bag palletizing experience, this contract engineering service costs amazingly little. We typically save the client many times over what we charge.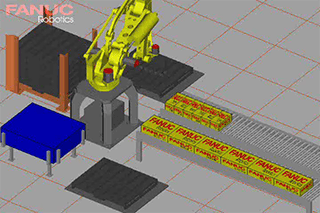 Let us show you how quickly and affordably robotic bag palletizing can be implemented in your production facility. Please contact us anytime! We look forward to hearing from you.
Robotic End-of-Line System Analysis
Feasibility Studies
System Methodology Analysis (Dedicated, Load Accumulating, Layer Accumulating, Load Shuttling, Layer Shuttling, Turntable, Row Transfer, Vacuum Pick, Clamp, Fork-Style, Clamshell, Case/Row/Layer Pick,
Cell Design
Line Layout Options
End-Of-Arm Tooling Design Recommendations
Rate Studies
Reach Studies
Rate Optimization
Palletizer Simulation
Accumulation Studies
Cell Density Optimization
Compare Contrast Robot Brands relative to your application
Develop software integration concept
Contribute to Package Design
Recommend wash-down / sanitation options
Specify the correct ancilliary equipment
Specify integrated upstream and downstream equipment that will enhance, not hinder system performance
Develop requests for Robotics, case packing and palletizing Quote
Estimate lead time requirements
Provide budgetary information for the equipment and services you need
Robotic End-of-Line Project Management
Perform on-site visit(s) to verify all proposed system solution criteria and address final technical and commercial concerns with a final robotic bag palletizer proposal
Manage Contractors
Proofs-of-Concept
Custom Tooling Design
Monitor the project schedule
Ensure that the system quality criteria is met or exceeded
Ensure safety requirements are met
Ensure sanitation requirements are met
Provide a go-to source for service, programming, parts and system modifications
Follow-up on warranty issues, if any
Approve FAT's
Coordinate Installation
Manage Start-Up
Certify and Approve Training
Work to exceed customer expectation
Provide information on system expandability