Robotic Bag Palletizer "C2" Design Process Eliminates Risk
While it is very important, there are much bigger issues than which brand robot to use! Issues like:
Should we employ a pallet dispenser? A slip sheet dispenser? A tier sheet dispenser? A top sheet dispenser? How many bags should we accumulate upstream? How many finished loads downstream? What about safety software? How many safety circuits does my system need? How will we interface with the bag packer? The stretchwrapper? What type of EOAT? And at least a dozen other important questions long before the matter of robot brand should come up. An expert supplier answers with a system designed in the best interests of the client; sales people sell one brand of robot.
RoboticBagPalletizer.com uses a proprietary design process to comprehensively and scientifically define the single-best robotic bag palletizing solution for your unique set of project parameters. This process has been developed over a fifteen year period by analyzing thousands of palletizing-related projects and executing hundreds of them. The result of this process is a system definition that delivers the blend of software, rate, reach, capacity, cell density, bag accumulation, material replacement, pallet staging, finished load acculation, upstream/ downstream interfacing, and networking that maximizes your investment dollar and eliminates project risk. Only roboticbagpalletizer.com has the C2 process to definitively answer all of questions and define the variables of a robotic bag palletizing system. We turn "unknowns" into "knowns" and eliminate risk. Just ask our clients!
Doing the engineering dilligence is only part of the answer (one leaf of the shamrock, shall we say). That must be combined with the broadest range of product designs and unmatched execution services in order to deliver the happiest robotic bag palletizer client base in NA. Only roboticbagpalletizer.com offers the following interchangable choices:
(10) or more robots will be considered for every project.
(21) different bag grippers to choose from
(4) general types of robot stands
(3) types of pallet racks
(3) types of sheet racks
(4) types of pallet dispensers
(4) types of sheet dispensers
(5) general types of pallet delivery methodology
(5) general types of load release methodolgy
Distributor pricing for multiple robot brands
Every robotic bag palletizer cell should be different!
Hidden within every robotic bag palletizer project's parameters is the design that optimizes the return of productivity and profit. Even a slight change in rate/reach, etc. can offer design opportunities to improve efficiency and enhance robotic bag palletizer productivity. Only the C2 design process allows palletizing cell elements to be quickly modified to enhance certain parameters. The resultant impact on robotic bag palletizer output and price are scientifically defined. This goes way beyond robot simulation!
Each of our trained sales engineers are able to quickly focus in on the data that define the best answer for you (See the ADS on the Resources page). After the C2 design process is performed, we will work collaboratively with you to make the single decision that maximizes your robotic bag palletizer ROI and eliminates risk.
Robotic Bag Palletizers
(Articulating Arm) Robotic Palletizers
(Cartesian) Gantry Palletizers
Hybrid and Specialty Machines
Types of Bags Robotically Palletized
Open Mouth Bags
Valve Bags
Paper Bags
Poly Bags
Woven Bags
Burlaps Bags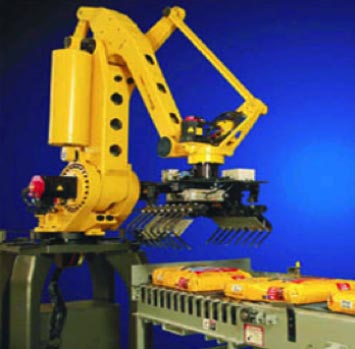 We will also custom design end-of-arm tooling for other bag palletizing requirements!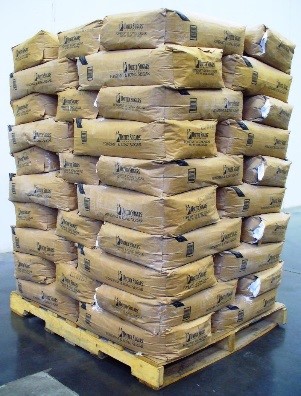 50lb bags of sugar in ND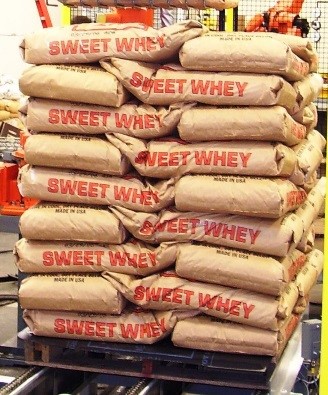 25kg bags of whey In NY
4 Types of Pallet Dispensers from Kelley
E-FL Pallet Dispenser
The Model E-FL Pallet Dispenser is a rugged unit designed for reliability. The E-FL uses a famed hoist lift design for the ultimate in pallet tolerance. The bottom pallet is completely free to be conveyed from the stack. Simple, user-friendly stand-alone controls are an available option. The design allows for flexible layout options.
Heavy-Duty Construction
1,500 Pound Lift Capacity
N0 Scissors Lift
NO High Voltage Required
Choice of 3-way Loading
Dimensions: 73" x 72" x 92.5" H
Pallet Size: 48" stringers x 40" boards
Pallet Type: GMA double face, CHEP, winged; others available
Pallet Capacity: 12; (Up to 20 optionally)
Electrical Req: 24 VDC control
Air Req: 10 scfm (intermittent) @85 psi
Rate: 3 pallets per minute
Discharge Elev: 18" (12" minimum)